Do you want to look back on 2023 later and say it was a good year? I made progress! I made a difference in my life and others in my family and in the community. Do you want to let another year go by without making a dream come true or just exist day after day with no focus?
Then it needs to start NOW not later. Days, weeks, and months fly by if we let them. It is so easy to say I will do these things tomorrow.  
The only thing that is for sure is this minute, this hour, and this day. Regrets do no good, other than reflecting on them to know how and what we need to change our path for the future. The future is uncertain and can change in an instant.
Worrying about the future just makes us put the focus less on now and what we need to do.  Minute by minute is how change begins. Each thought contributes to either happiness and success or failure. 
Our self-talk can either propel us forward or leave us paralyzed to move forward.  Every negative statement we tell ourselves is hurting us. That little negative voice inside you is often your worst enemy.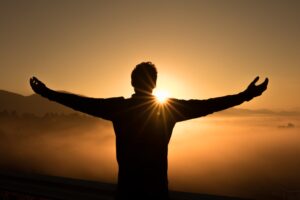 This year we should work to become a better human, a more loving and forgiving wife, a more supportive mom with more patience, or a better daughter or son to our parents.  Just working on our relationships would be such a blessing to others and to ourselves.  
We can work on our own attitude to be more uplifting and positive.  It should be a goal to complain less and focus on the good things in our life.
We can strive to choose joy today rather than all that goes wrong in life and the world. We can choose to feel blessed rather than cursed.
We can work on our life and the quality of our life no matter how broke we are.  There are so many areas that cost nothing to improve such as getting rid of sodas and junk food. Exercising can be done with a walk, play day with the kids, hiking up a mountain trail, or just a walk around your neighborhood or with your dog.
Turn off the news and read more uplifting positive articles, books, or poetry. Listen to beautiful music that calms your mind, body, and spirit.  Visit a friend who needs a hug or someone to talk to you. Be the shoulder that someone needs during a time of crisis. 
We can look to our neighborhood and our local community to see how we might help or brighten the life of someone near us. Perhaps we can do nothing more than call them to cheer them up.  That can be a life changer, that you care and show them tenderness and a shoulder to unburden on. Volunteer at the local dog pound, the senior center, or for some other cause. There is always a way to be useful in your own small town or in the city.
We can forgive the past so that we can have a heart that feels joy instead of old wounds, pain from the past, sad memories that haunt us, and anger toward others that only serves to make us sick.
If all of us just did one or two of the suggestions above, we would have had a more fulfilled life. Changing the world has to start in ourselves and in our corner of life. Its starts with one day, then the next, and the next.
Where is your attitude this week? Where is your heart? Where is your mind?
Let this week be a week that we take off the dark clothes of circumstances to focus on blessings.  How can you and I do one thing this week to make our lives and community better?  What one step could we start to improve our health and relationships?
It is up to you! It is up to me!  One step is all I am asking of you!  For one week focus on blessings only, not the negative in your life and in the world….just blessings.  Take one step to redo your attitude toward yourself and others.
Cathryn Freer, signing off for a perfect week.