Moringa trees grow naturally in many countries such as India, Honduras, and the Philippines. Moringa Oleifera Leaves are an integral part of the Philippine and Asian diet in many countries.
Moringa leaves are packed with vitamins, minerals, and protein.  The local people buy the fresh leaves daily at their neighborhood farmers' markets picked from the local trees. They may even have trees growing naturally around their house. They use the leaves daily in teas, soups, and other dishes.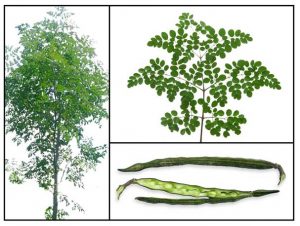 Here in the United States, most Americans are not using Moringa leaves in their daily lives.  Many have never even heard of the Moringa tree and know nothing about its health benefits.
You may have never heard of the Moringa leaves or seen them in any market you shop at. If you live in or near an Asian community, you probably will find the leaves there in the produce department. This is especially true in Hawaii, Florida, Southern California, and perhaps in South Caroline where winters are mild, with no freezes. There are only a few year-round warm states where the trees can be grown all year long. I used to grow them but had to bring them into the house as soon as the temperatures dropped in the fall. When you eat the leaves fresh off the tree, they are full of healthful enzymes that give your body the power to work more effectively. This is not even talking about all the other nutrition in these little leaves.
There are many great Asian dishes to add Moringa leaves to, but you can easily incorporate Moringa leaves into typical American foods as well.
Moringa Leaves are superior to head lettuce, most salad greens, spinach, and all the fresh leaves you normally put in your salads. They have a spicy flavor.
Moringa Oleifera leaves with recipes featuring fresh or dried Moringa leaves.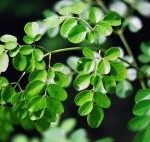 Use Moringa leaves in hot or cold tea!
Enzymes, flavor, nutrition, and tastes are wonderful! Couldn't get any fresher than that!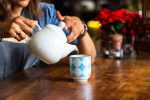 Make delicious hot teas for the morning to wake you up! No caffeine, just more energy.
Make hot tea or add ice cubes for cold tea. It is really refreshing and helps get you going.
Combine the Moringa leaves with ginkgo, Jiaogulan, or green tea to help you with some mental zip.
Try cutting down on your coffee intake by combing Moringa tea with ginkgo or Lion's Mane mushrooms.
Steep leaves in boiling water for a few minutes. Then strain.
I sometimes add ginkgo, Jiaogulan, or green tea as well to the Moringa tea.
You can either steep the fresh leaves or used the dried tea. The amount of dried tea depends on the strength that tastes good to you. When you take it in the morning it gives you stamina and energy without caffeine.
Nutritious Salads  with added Moringa Oleifera leaves Fit for a King
Moringa's fresh leaves are super in any kind of salad. Add Moringa leaves along with spinach, red lettuce, tomatoes, cucumbers, and mushrooms. Top with sunflower seeds or other seeds and nuts such as walnuts. You are further ahead nutritionally by adding Moringa leaves rather than head lettuce.
Boost the Nutrition in your Sandwich!
Don't use head lettuce, use Moringa leaves! Â Moringa leaves add s blast of nutrition and enzymes, are organic, and give it some zing!  Add Moringa leaves to tuna or egg salad and spread on crackers!
Dips 
Use Fresh Moringa leaves as a topping or add the powder to the dip mix.
Add as a topping to cottage cheese.
Pizza and Italian Dishes
Add Moringa leaves after it has cooked in the oven and are still hot. Just sprinkle the leaves over the top.
This makes a great nutritious topping, especially for a vegetarian pizza, or any Italian dish.
Moringa Green Drink Supercharged
6 ounces of cranberry juice or your favorite
6 ounces water
1 tablespoon Spirulina Powder
2 tablespoons Moringa Powder
1 tablespoon Life Source Green Drink
2 tablespoons Fiber powder
Blend in the blender and serve.
My husband and I fix this green drink every morning. It gives us energy for the whole morning, cuts cravings and appetite helping us to maintain or lose weight. It tastes great too. If you want it less strong cut the green ingredients down to teaspoons to start out.
Yummy Nutritious Green Smoothie
Put yogurt or goat's milk into a blender with the above ingredients from the green drink recipe. Add collagen powder, vanilla protein powder, or whatever tastes good to you.
Add fresh or frozen fruit.
Add flaxseed powder.
Hot Moringa Milk
2 caps Moringa powder, a tsp of turmeric, 1 tsp of ginger, nut milk of your choice, organic milk or goats' milk, honey or monk fruit and stir…it's a simple energy boost!
Moringa Quiche and Egg Dishes
Add Moringa leaves to Quiche as you would spinach and top omelets with the leaves!
Add them to the omelets or scrambled eggs at the last to preserve vitamins and nutrients destroyed in cooking.
Moringa / Coco No Bake Health Balls
Vanilla Wafers Ground into fine powder
Two tablespoons of Moringa powder
Two globs of chunky peanut butter to hold the mix together.
1 tsp or more Mexican Hot Chocolate mixed with cinnamon and spices.
1 to 2 tsp of sugar depending on taste or honey.
Mix all of it together and roll it into balls. You can make these less sweet or sweeter according to your taste. You could add chocolate chips to the balls. It depends on how healthy you want them regarding the sugar and calories.
Moringa Pods can be eaten as well as the leaves!
Moringa Pods can be eaten at different stages of maturity as well as the Moringa Flowers!
Further reading and research on Moringa Oleifera here 
Read my other articles on Moringa Oleifera here.
Cathryn Freer, the Herbladyisin signing off.