Meditation is an important part of Ayurvedic health practice.   There are thousands who make meditation part of their morning or nightly regimen.   Most people who make meditation a part of their daily rituals are not into the religious part of it but just do it for a more peaceful mind.
Not everyone has joined the meditation train in my age group.  I think that one of the reasons why is that they always show a young person sitting with legs crossed or in odd positions, which many of us who are older just cannot do.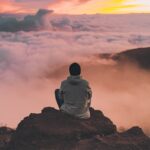 I think those pictures defeat the real purpose of meditation which is to free your mind and get into a healing mode for body, mind, and spirit.
Meditation and prayer are not in conflict as many believe.  Meditation does not have to focus on a particular religion or belief.  You don't have to be part of a Middle eastern religion to take part in meditation. 
Is meditation difficult for you to do? Tips for seniors and newbies.
I can tell you for years I tried and failed at meditation. My mind is always active and slowing it down is very difficult.  It wasn't until I began taking classes to get my Life and Health Coach Certification that I finally got it.
Meditation classes were part of the lessons needed to get the certificate.  I had also come into an area of my life where I could not seem to find peace despite the fact I pray. There were so many questions in our lives being seniors and with both of us trying to recover from Tick diseases, that I signed up for a number of classes including Mindfulness Training.  Those classes were the best thing I did in the last several years. If you have tried it before and couldn't seem to clear your mind for meditation, I will suggest online classes.
Factors that make meditation easier to do.
One thing I found is that certain meditation music irritated me, just like some classical does.  In listening to a number of different meditation music tracts, over time I discovered what music I needed to find that quiet place inside myself.  So different meditation tracts affect each of us differently…so explore different ones until you find the one that appeals to your inner soul. 
Find a peaceful part of your house or in the backyard. 
I found that listening to the tracts depending on the video that goes with them makes a difference as well.
Not all of us our limber enough to sit in yoga poses.  I am 69 with curvature of the spine and it is not what I can do.  I personally sit in my easy chair with arms relaxed, and legs relaxed to listen to the track. 
You cannot get into a quiet place when the yoga position causes pain.  If you can sit in a yoga pose with your legs crossed, that is great, but it is not a have too. The idea is to be in a relaxed position so that you can get into the meditation.
Persistence is important since active minds need to work more at meditation than people who are more mellow.  If you have an overactive brain, then you must realize it does need rest.  Your brain needs time to repair itself and to detoxify as well.  Meditation gives your brain and your body rest and uplifts it in so many ways.
Tips for finding a time to meditate.
It is important, to find a time without distractions, even if you have to get up 2 hours before your husband or family. I woke up at 3 am wide awake.  Instead of lying there, I got up put on my favorite meditation tape, and earphones, and had a really great two hours. The house was still, my husband was asleep, and no chores needed to be done.  I often do that.
The whole day went well after that two hours of meditation, quiet, and just peace.  With all the political stuff going on, there are many people who are having trouble sleeping.  It is imperative you turn off the headlines, the news, your computer, and your cell phone for more positive things. 
Meditation helps you to find more joy in life. It turns your attitude around for the day. Add elements of joy to your day and life.
This morning I made a squirrel feeder for outside our office window, devised a water bath for the birds, and worked with my plants for the rest of the morning.  The joy of watching the squirrels eat peanuts outside our window was so much fun.  I was feeling down having left our chickens and ducks in TN.  Since here in town, we cannot have either one, I decided to feed the doves and squirrels in our front yard. It did wonders for the sadness of missing my critters.  
There is also a pond we visited where someone let go of three domesticated white ducks.  It is a huge pond, but they cannot fly south for the winter.  That is the issue with the big white ducks, they cannot fly far. I fed them and talked to them under my feet and made it a goal to check how they are doing when it gets cold since this is our first winter here.  I will feed them as well when it snows.  I am not sure they don't live nearby where someone actually just lets them go on a pond walkabout. There are several houses across from the pond. I will run a check on them every two or three days.
Along with the ducks, and many wild ones, there were about 50 Canadian geese.  It was great to watch them as well.  It gave me great joy.  Often in life, it is the small joys that give us the greatest joy in our hearts.
https://meditation-music.net/about/
https://www.bing.com/search?q=meditation+techniques&qs=LS&pq=meditation+&sk=LS3SS2&sc=10-11&cvid=82486CE50B2C4A6FA866EE50DD6C31AB&FORM=QBRE&sp=6&ghc=1&lq=0
Meditation and Health from Mayo Clinic
All for Now,
Cathryn Freer, the Herbladyisin