Do you want to live longer and with vibrant health? Learn about these 7 factors that will improve your health, your attitude, and your longevity.
Learn about 7 factors that will improve your health, your attitude, and your longevity.

Why do so many people die young?

Yet, there are others who are living way beyond their 90s with joy and smiles.
What makes the difference? 
7 factors that will improve your health, your attitude, and your longevity.
Turn off Politics!!!!
Watching continual news and politics is one of the worst uses for your time. Any news channel you turn to is negative and sickening.  Watch enough of it to keep track of what is going on in your world, then turn it off.  Once you have voted, there is not much you can do about what is happening.  Watching the news raises your blood pressure, and turns your mind and thoughts to the negative. My father was German, and he would get an asthma attack often when watching the news.  Put the remote down and garden.  Turn off the tube and read a good book or go out for coffee with friends.  Buy some mind game books to work on such as crossword puzzles.  Turn off the negative influences!
 

Laughter helps you to live longer!
Comedians Bob Hope and George Burns both lived to be 100. George Burns smoked cigars his entire life. Milton Berle lived to be 93. They lived such long lives because they laughed and gave laughter to the world during their lifetime.  Laughter was their life. It is said that people have conquered cancer by watching comedy shows non-stop! If it didn't cure it, it certainly helped them to deal with the pain of dying.  Laughter lightens your burdens and makes the pain of your life more bearable.
Add Facebook and U-Tube animal videos or videos of travel to lighten up your life.
U-Tube has some fun videos to watch for free. Add groups to your Facebook account that focus on positive, fun things like animal videos, squirrel antics, wildlife, and animals. Funny cat videos are over the internet.  Watch them give you a happy lift in your day.
To Live Longer Adopt A New Positive Attitude and Gratefulness
Your way of looking at life, life events, and the future goes a long way to determining how long you will live.  Those who deal with life with optimism and the 'glass half full' do much better in rolling with the twists and turns that life tends to give out.
These 'agers with grace' are grateful for each minute of every day along with all the little things they have. They don't take things for granted. They believe with all their heart that life for them is good now and will get better.
To Live Longer……Keep an Active Mind and Body
Here in Yuma, we have many walkers, and several are getting up in age. These 85-plus senior walks all over Yuma every day.  One man who is in his 80s goes to his ranch every day to help his son to drive the ranch trucks. He has survived covid, cancer, and heart surgery, and looks very frail but he is durable. He is also dedicated to his ranch even at 86.  He makes every effort to keep his body moving and active. He loves his family and his ranch life.
Exercise is available at every level of ability.
If you are obese or have health issues with walking, there are chair exercises on U-Tube. Start out with just moving your body and take a few more steps every day.  Take your dog or your grandchildren out for a walk.  Find a friend or neighbor who might want to walk with you. Often, people don't want to walk alone. They are afraid they might fall.  Your friend may be waiting for you to ask them to go with you. Try to choose a walking partner who also needs the exercise as well as you do.
Take Time to Enjoy Life -Create Memories to Cherish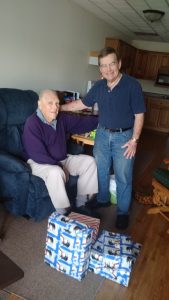 What will be your regrets when you are old?
I was a caregiver for a few years on the side.  I learned so much from the people I took care of.  I listened to what they told me as they were leaving this life.  They regretted the trips they did not take or not taking time to enjoy life.  They regretted rifts in relationships that never got mended. They regretted not taking enough pictures and special moments lost because they were working so hard to put food on the table.
To Live Longer…Create Happy Memories!
Those who had enjoyed life, in the end, got comfort from their memories, their trips, their family memories, and having their spouse by their side.  When their limbs no longer moved and they were confined to bed or wheelchairs, they focused on their precious memories. Those memories got them through the pain, the agony of cancer, and the last moments of life. 
Friendship, Community, Family, and Friends
It is a known fact that the elderly with community, family, and friends live longer and are happier than those that live alone.  This community helps them get through the tough times and live a more peaceful, fulfilled life. Depression in the elderly is one of the killers for those over 70.
Isolation is NOT healthy.
Often, seniors are isolated from family and friends who have passed before them. There is food in the refrigerator, but they don't eat because they have no desire to eat. If you are alone, fixing a meal is boring and just too much work.
To Live Longer…..Join a group in your community!
Here in Yuma, there is a Meet and Eat group that goes to different restaurants to talk and get some social networking in.  There are also senior meals at the local senior center which provide time to interact with others, relieve boredom, and eat better than you would at home.
Church and Community
Church is another option for meeting with people and having some companionship. It is nice when you are sick to know that someone cares and calls to see how you are doing. A church member may visit you at home to see how you are doing.  It is an avenue to consider.
Singles also suffer from being alone too much. It is imperative you get out to do something other than work and then work more.  If you don't, you will burn out sooner or later. If nothing else walk where they are people to see and talk to for a few minutes.
Learn to turn off worry and fear about the future!
If you are a person who worries a lot, it is not a healthy trait. So much of what we worry about are events or things in the possible future, that we have no control over. All the worry in the world, will not change those things we have no power over or that are in the possible future.  Focus on what you can do today to change your life, your attitude, or your health.
One minute at a time! Pray for strength and patience.
At times, it is only possible to focus on the minute or the hour if we are caregivers. If there is any factor that shortens life, worry should top the list.
To Live Longer…..Don't Worry, Pray!
When you wake up in the middle of the night, pray for whoever you are worried about or the situation.  Deep breathing may help.  Get up and read a positive book for a while until you can sleep again.
Drink chamomile tea or valerian tea before bed.  These two herbal teas can be very useful to relax you enough to sleep again.  Melatonin and Tryptophan before bed help some people sleep better.
I hope this helps to perhaps give you a new view on living longer and with more peace of mind.
Cathryn Freer, the Herbladyisin signing off for today.
https://www.verywellhealth.com/things-to-stop-if-you-want-to-live-longer-2223866
How to change your life for the better and live longer!