Jiaogulan tea is a tonic tea you can drink every day for improved health! Jiaogulan is an adaptogen herb, a tonic herb, that has the overall effect of helping the whole body to work more effectively, strengthening the different systems and organs of the body.
How to grow Jiaogulan, the Immortality Plant
Jiagoulan, the Immortality plant is not winter hardy. You need to bring it in during the winter and place it by a sunny window. In mild climates like Southern California or Florida, it should be fine in a protected area. It makes a great house vine plant but needs something to climb on or just let it spill over the sides. Keep it moist. It needs dappled sunlight, not full sun.
Jiaogulan,  (Gynostemma pentaphyllum), is one of the easiest adaptogen herbs to grow and use once you have some plants growing. It is a climbing vine that can be grown on your porch in states with mild winters.
It is a member of the cucumber family. You can grow it in any area, as long as you bring it inside if you receive freezing temperatures. The picture below is my Jiaogulan plant grown in my house. You can see it is pretty happy in this spot. I have it under grow lights. 
This vine can be grown in a large hanging basket in dappled sunlight or in the house with some good light.
You can also grow it in the ground, in kiddie pools, or in tubs near a tree or wall so that it has something to climb on. It is a plant that is pretty as well as great for health.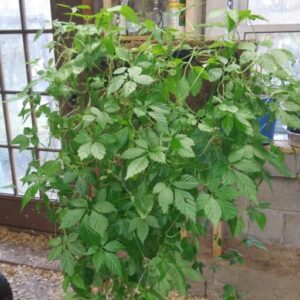 How do you process the Jiaogulan vine plant leaves for tea?
Wait until the plants grow some and its vine is at least two feet long, and then cut the vines off. Don't strip all the leaves bare off the plants or they may not continue to grow well. It is best to have at least 5 to 10 plants growing to have enough for tea every day. So not spray them with commercial bug sprays!
Check for bugs and contamination!
The first step is to check your newly picked leaves for bugs, and dirt, or that the leaf is not diseased. You can either dry them first or use them fresh in tea.
Heat water until boiling first!
You want to use the Jiaogulan leaves as an infusion which means you get the pure water almost to boiling, then take it off the burner, add the cut vine parts or dried tea leaves, then steep for about 15 minutes. It is a very nice tea that is easy on the taste buds.
Brew 
If it tastes bitter, you brewed it too long.
Use Leaves Twice
You can use the Jiaogulan leaves as least twice again, perhaps brewing it longer the second or third time. Keep the used tea leaves in a small bowl in the refrigerator.
If you are making one mug, use a heaping tsp of the dried leaves and three tsps. of the fresh.
How much of the fresh plant do I use?
I make it in a saucepan with about a tablespoon of dried and three tablespoons of the fresh vine. I buy the dried because, at this point, I don't have enough for tea all the time. You can also buy it in capsules as well.
Combine Jiaogulan with other tea herbs.
You can combine Jiaogulan tea with other teas as well. You could combine it with green tea, hibiscus tea, peppermint, or any favorite tea you have on hand. It tastes fine by itself.
This is a tea that you drink every day and contains NO caffeine. It is not a stimulant tea but gently uplifts your energy and vitality.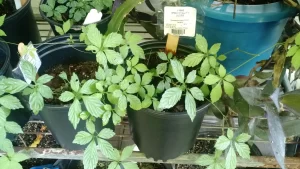 Jiaogulan is a tonic tea.
It is a tonic tea that over time will help your overall good health. It needs to be given time since it works by strengthening the different body systems. You may not feel the difference for a few days or weeks. I did, but that may not be the result for many people. If you are tired all the time, you may see your energy improving or just feel better all over.
Jiaogulan is a strengthening tea after illness!
This is a good tea to drink after a bout of sickness to get you back on your feet again. I would also suggest taking the capsules as well to speed up your recovery from your illness.
I am including a link to Amazon for the tea. I do make a small commission if you buy the product.
 I use the Immortiatea Brand and feel it is really great quality. I have been drinking this brand of tea for several months daily.
Please next read my article on Jiaogulan and its health benefits here 
Cathryn Freer, The Herbladyisin,  Master herbalist, researcher, writer
Links for further education are below: none are ads